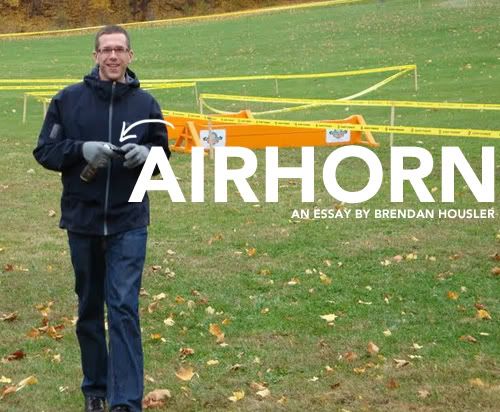 Simply put, AIRHORN! is the Minerva Design style of cheering.
It's an all out barrage of noise so that the rider cannot be confused as to who the cheerer is rooting for. The Airhorn screams Red, Black, and White. Airhorn is a motivational boost when you're out there grinding as hard as possible, teeth gritted, pushing the pack down the roads and CX hills. WAH WAAH
WAAAAAHHHHH!!!! There is no question there, Airhorn is telling you to go kick some arse!
Because of this, Airhorn brings a huge grin to many riders faces. Other riders also seem to love the airhorn, as it's much more pleasing to the ear than a herd of cowbells. (tink tink tink)
It's very accepted, and encouraged, for a Minerva Design rider to make a request for an AIRHORN! by holding up their hand and flicking your trigger finger up and down. When you need that extra boost that carbs, sugar, or caffeine just can't deliver, you can always count on AIRHORN!!. WAH WAAH WAAAH!!!
Lastly, AIRHORN! is ultimately a sign of victory! When the Red, Black, and White streak across the line before all other riders, the cheers will surely be drowned by AIIRRRHHHOOOORRRRNNNN!!!!
Disclaimer
: Airhorn may accidentally scare the s#!t out of you if you aren't accustomed to such boisterous noisemaking, so beware of the WAH as you ride. But don't worry, if you trip on a CX barrier, you will not get airhorned, unless it's motivation for you to catch the rider who easily cleared the barrier you just stumbled on. Go get 'em killer! AIRHORN!

Airhorn! is only meant to root on a MDC rider or fellow GVCC compatriot. Occasional other uses of Airhorn will be used just because we're nice, but really, Airhorn doesn't love you. If you hear an AIRHORN! coming from miles away, let's just say you've been warned. Minerva Design is coming. Not for you, for the podium. Get off the pavement.